Operation Round Up
Operation Round Up Applications MUST be received ten (10) working days prior to the scheduled Directors' Meeting to be considered for funds. Note: Please make sure applications are not printed and returned front and back.

The next meeting is scheduled for Monday, March 6, 2023.

Applications are due in the office by Monday, February 27, 2023.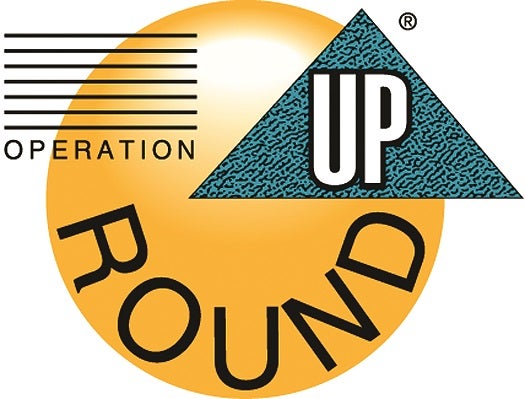 As a cooperative committed to community involvement and customer focus, we are excited here at HOTEC to find an effective and easy way to improve the quality of life within our community.  This program is the perfect way to put our co-op vision into action.  Operation Round Up is community involvement at work.  Simply stated, Operation Round Up is local dollars meeting local needs in the local communities.  HOTEC is just providing a channel for you, the members, to collectively help others in your own neighborhoods.
Operation Round Up provides members the opportunity to connect with the rest of the community.  Each need that is met through Operation Round Up becomes part of the cycle that directly and indirectly benefits local residents and businesses.  With so many requests each year for you to make charitable contributions, it can be hard to assess one need against another and make satisfying personal donations.  With Operation Round Up, however, you have the opportunity to have a much greater and more satisfying impact in meeting local needs. In fact, the possibilities of the program's potential effect are astounding once you understand how it will operate.
Operation Round Up is a community service program that was adopted by the Board of Directors of HOTEC and began on June 1, 2004.  Operation Round up is just what its name implies.  Each month, the electric bills of participating members are "rounded up" to the next highest dollar.  Example:  If your electric bill were $41.20 or $41.95, it would be "rounded up" to $42.00 with the additional amount going into the Heart of Texas Electric Trust Fund.  The average cost per member per year will be about $6.00.  The program is flexible in that you may also give a one-time gift or a fixed monthly amount.  These monies are then redistributed to local community organizations in Bell, Bosque, Coryell, Falls, Hamilton, Milam, and McLennan County.  The intent of the Operation Round Up program is to aid the community and emergency service providers in their efforts to improve the  quality of life for our less fortunate neighbors and support each community's health, safety, and well-being.
Operation Round Up funds can go to local charities and service organizations in need.  Looking at the program's purpose, one thing becomes obvious - the countless positive things Operation Round Up can do. Our members will see what a powerful tool for good our cooperative is providing.  With possibly as many as 14,000 customers putting their nickels, dimes, and quarters together, HOTEC, through Operation Round Up, has the potential to collectively make a significant difference in the lives of our friends, neighbors and communities.
Members of HOTEC will now have the opportunity, the means, and the reward of contributing voluntarily to worthwhile community activities and needs throughout our service territory.  All HOTEC members will be enrolled in Operation Round Up unless they choose not to participate.  Participation is strictly voluntary and you can request to be removed from the program at any time.
Operation Round Up Application
Frequently Asked Operation Round Up Questions
To see where funds have been disbursed to date, click below.
Alzheimer's Assoc., North Central Texas Chapter - $2,500
Davilla Community Center - $2,500
The Salvation Army - $2,500
Moody Community Library - $1,000
McLennan County 4-H Sharpshooters - $500
Valley Mills Youth Baseball Association - $250
Moffat Community Center - $2,500
Westphalia Celebration Park Inc. - $1,000
Military Order of the World Wars - $500
McGregor Youth Vo-Ag Booster Club - $250
Valley Mills Youth Support Group - $250
Crawford Community Center, $2,500
Davilla Community Center, $2,500
East Bell Youth Boosters, $500
Gatesville Volunteer Fire Department, $2,500
Jonesboro Volunteer Fire Department, $2,500
McGregor ISD Education Foundation, $500
Midway ISD Education Foundation, $500
Oglesby Volunteer Fire Department, $2,500
Osage Volunteer Fire Department, $2,500
Temple Children's Museum, $500
The Arc of McLennan County, $2,500
The Grove Community Center, $2,500
Town Square Community Foundation, $2,500
7 Area Food Pantries, $,1,000 Each: Area Christian Services, Baptist Church, Blessings From God, Care Center, Presbyterian Place, Samaritan House, and Valley Mills Pantry. 
The Contemporaries - $500
The Salvation Army - $2,500
Old Settlers & Veterans Association - $1,000
Old Town Cameron - $250
Preservation Rosebud - $500
REACH Therapeutic Riding Center - $2,500
Texas Ramp Project - $2,500
Bruceville-Eddy Volunteer Fire Department - $2,500
Minerva Volunteer Fire Department - $2,500
Turnersville Volunteer Fire Department - $2,500
St. Vincent De Paul - $2,500
Alzheimer's Association - $2,500
Bruceville-Eddy Senior Citizens Center - $2,500
Hill Country Community Action Association, Inc. - $2,500
The Marlin Public Library - $2,500
Moody Community Library - $1,000
Flat Volunteer Fire Department - $2,500
Lott Volunteer Fire Department - $2,500
Westphalia Volunteer Fire Department - $2,500
Crawford Community Center - $1,250
Hill Country Community Action Association - $2,500
McGregor ISD Education Foundation - $500
Oglesby Volunteer Fire Department - $2,500
Osage Volunteer Fire Department - $2,500
Rhett Revolution - $2,000
The Arc of McLennan County - $2,500
Turnersville Community Center - $2,500
Westphalia Celebration Park - $1,000