Recently, due to a surge in coronavirus cases, it is now a requirement for anyone over the age of 12 to show proof of vaccination to enter many of the venues in the D.C. area. There are also new restrictions on access to many of the venues that are part of the weeklong trip. Preparation for Youth Tour requires months of planning, and decisions often need to be made well in advance. Heart of Texas EC is currently working with state and national Youth Tour stakeholders to evaluate the situation and make decisions that are in the best interest of our members. The situation remains fluid, and we will continue to provide updates as new information becomes available.
Youth Tour
Application Deadline: 5 p.m. - February 15 of Current Year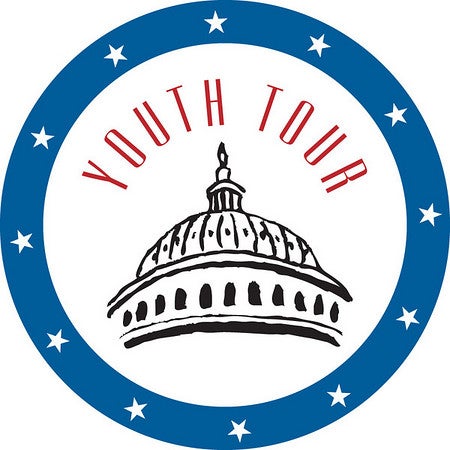 HOTEC is proud to announce that we participate in the "Government-in-Action Youth Tour", sponsored in conjunction with the National Rural Electric Cooperative Association (NRECA) and Texas Electric Cooperatives (TEC).  The youth tour contest is held for high school junior students and the winner will receive a two week all-expense paid trip to Washington, D.C. in June of each year.
The winner will join almost 100 others from Texas on this exciting trip.  On Rural Youth Day, the Texas group will meet participants from other states at the nation's capitol where they will meet their State Representatives.  Nearly 1,500 students will gather to learn about each other and what life is like in other parts of the U.S.A.
Eligibility requirements are listed on the attached page.  Overwhelmingly, winning entrants have experienced the trip of a lifetime.  For some, this may be their only opportunity to visit our nation's capitol, become familiar with historical national monuments, government buildings, and to visit elected officials.
We hope you will see this as a value and that you will apply or encourage your school or a student to participate.
We will be more than happy to answer any questions you may have.
Eligibility Requirements
The essay entries will be limited to high school students that have completed their sophomore year of education, whose parent, grandparent, or legal guardian is currently a member of Heart of Texas Electric Cooperative.  Past members and family members of HOTEC or board of directors are not eligible.
You must submit an essay not to exceed 500 words based on a different topic each year.  The topic will be shown on the application.  A winner will be chosen according to the originality and content of their essay.  The winner will be required to give a brief summary of their trip at the Annual Membership Meeting in October.  Please turn in your essay along with the  application.
If you have any questions, please email ron@hotec.coop, or by phone at 254-840-2871 or 800-840-2957.

Applications may be dropped off at either office, emailed to ron@hotec.coop, or mailed to HOTEC, PO Box 357, McGregor, TX 76657.
Heart of Texas Scholarships
Application Deadline:  5 p.m. - March 1 of Current Year
Heart of Texas Electric Cooperative will be awarding 10 (ten) scholarships in the amount of $1,000 each.
Scholarship Qualifications
The recipient must have graduated high school within two years of the application deadline; reside in the household (primary residence) of an HOTEC member. The member must be in good standing for at least twelve (12) consecutive months as of the application deadline. Good standing is defined as "a member that has paid all bills to the cooperative for which they are legally responsible or liable for the most recent twelve (12) months without having been issued more than two termination notices".

The recipient must be enrolled in an accredited program, either full time or part time.

The recipient must be an undergraduate student only.

The scholarship fund will be in the form of a grant program with the funds being paid to the college, university, or technical institute.

Scholarships are not renewable, but recipients are encouraged to reapply.

The scholarship fund will be $1,000 to each scholarship winner ($500 per fall and spring semester). The committee will award 10 scholarships per year.

Scholarship use must commence within one year of date.

The scholarship may be used at any two-year or four-year accredited college or university in Texas, including technical institutes.

Applications should be completed in detail and will be reviewed by member of Scholarship Committee. The applications that are accepted will be placed in a random drawing to be held at the HOTEC office and winners notified in May after the drawing.

The selection committee made of impartial judges will use a combination of need, academic ability, and citizenship in determining the qualification.

A first-time college student applying for the HOTEC scholarship must:

Have graduated from high school with at least a "C" average (2.0 on a 4.0 GPA scale) or,

Have graduated from high school and a received a minimum ACT test score of 21 or,

Be accepted to an accredited college or university in Texas, including Technical Institutes.

An undergraduate college student seeking the scholarship must have achieved a 2.5 (on a 4.0 GPA scale) on all prior college work.

An application must be completed and returned to HOTEC by March 1 of current year.

The recipient will be required to provide HOTEC with an official transcript verifying their eligibility before funds are paid.

The funds will be paid to the school at the beginning of each semester upon presentation of an official transcript for payment of tuition. To receive the second semester payment, the student must provide evidence of a maintained minimum GPA of 2.5.

If the student does not continue their enrollment beyond the first semester, the remaining funds will be held in the HOTEC account and awarded to a new student during the next selection process.
Applications and qualifications sheets may be picked up at your school counselor's office or contact ron@hotec.coop.

Applications may be dropped off at either office, emailed to ron@hotec.coop, or mailed to HOTEC, PO Box 357, McGregor, TX 76657.
Other Scholarships Available
TREWA Scholarship - visit www.trewa.org